Any seat, in any location, within a hot desking zone.
From
THB
5,500
/ Seat / Month
Designed for: Remote workers and freelancers who want flexibility and social networking opportunities.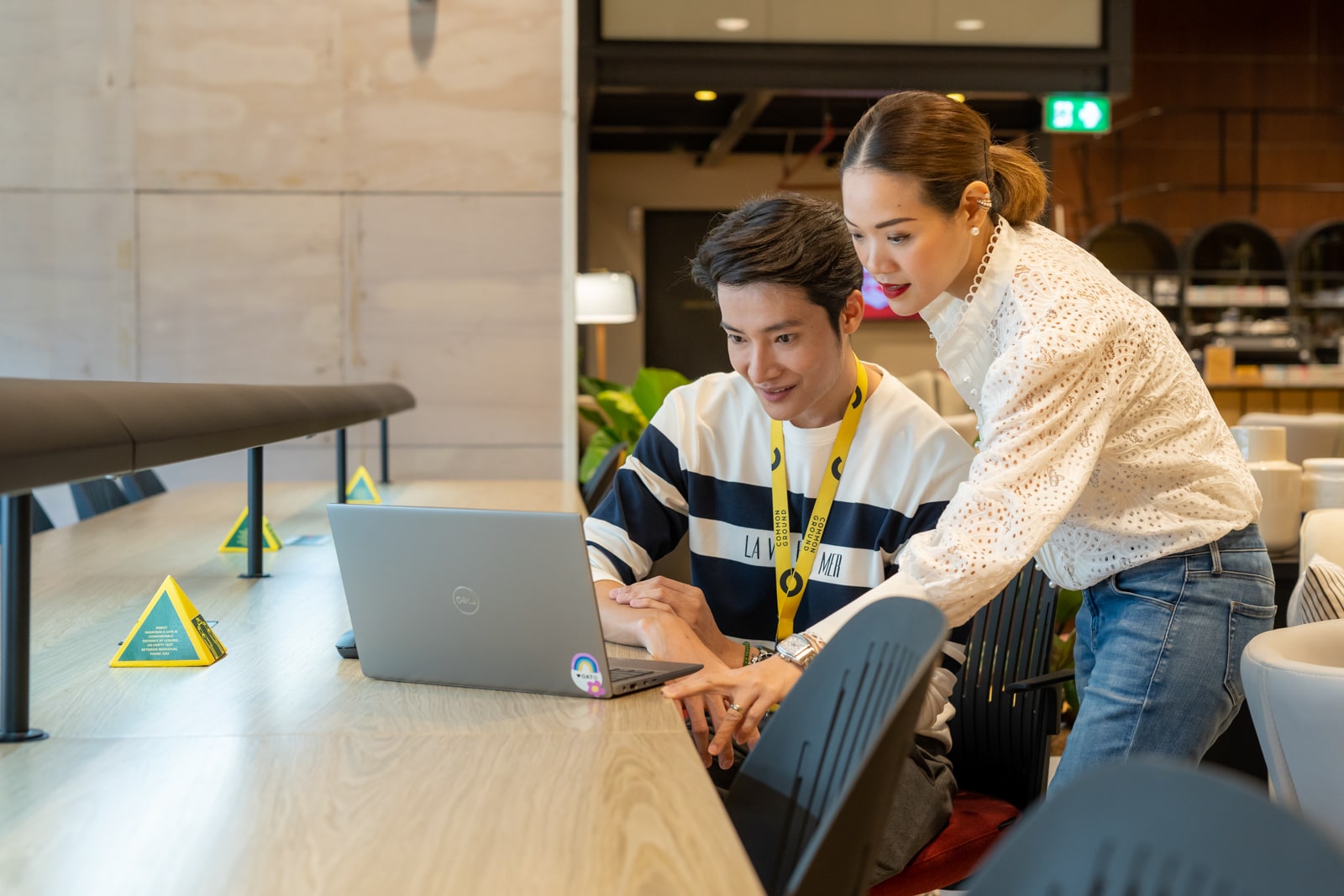 This should be the page from where its coming and this is awsome
Hot desk available at these locations
Every membership at Common Ground comes with these benefits to support you and your business.
As a Digital Marketing Agency, our work culture focuses on agility and integration of ideas in both the creative & data senses. The flexibility of spaces at Common Ground allows us to have the "me" . Focused time and spaces where we could come together as "us" to collaborated better.
Khun Orasa K.
Account Executive, Talka Talka Digital Media Co.,Ltd
Setting up an office can easily make or break a business in its early days, especially for a start-up like Beaute'. One of my top priorities when choosing the right space was to ensure that our office rightly represents who we are. Common Ground has completely lived up to the expectations.
Khun Chiraphat C.
Operation Director, Beaute Intertrade Co.,Ltd
PA-D Digital joined Common Ground during the Covid-19 Pandemic. Flexibility is key in maximizing business effeciency and productivity in the new normal. Common Ground understands this and provided us with the right soultions to get through the situation.
Khun Samatiy S.
Founder, PA-D Digital Co.,Ltd
It's everything a co-working space should be! The perfect setting for entrepreneurs to collaborate, has all amenities an SME needs, and has excellent service. Common Ground has been a reliable partner in our journey, and we look forward to work with them in the long term.
Khun Teethun P.
Business Unit Manger, MCK Pharmaceutical Co.,Ltd
Got a question? Fire away.
Whats the difference between a Hot Desk and a Fixed Desk?
A Hot Desk is any desk within the hot desking area and has a minimum sign-up period of one (1) month. You will enjoy flexibility here as you get the chance to change your seat everyday. A Fixed Desk is a reserved seat and has a minimum sign-up period of three (3) months. Members can set up their desktops and their desks come with drawers that can be locked.
How do I change my membership plan?
Whether you're expanding or downsizing your company, we got you! Get in touch with our friendly Sales team at cgth@commonground.work, and they will do their best to find a solution for you.
Can I transfer my membership to another venue?
Yes, of course. Simply approach your Community Team, and you may choose to transfer your membership to another venue. This is provided that all outstanding payments with your current membership location is cleared.
I'm a Hot Desk member, would it be possible for my guest to come over after 6PM?
Unfortunately, we do not allow guests in after office hours to maintain the safety of our Members and the Venue.
Can I leave my belongings overnight at the venue if I'm a Hot Desk member?
We do not encourage you to leave your belongings overnight as it's an open space for any Member to use and we are not responsible for any lost belongings.
Want to know more about
our spaces?